Sonja and Terran have been added to the character page.
This is your last chance to back the Spiderforest Coloring Book! We're close to hitting the first stretch goal, which adds another 4 pages to the book, so go check it out!
Time for another round of Comic Of The Week!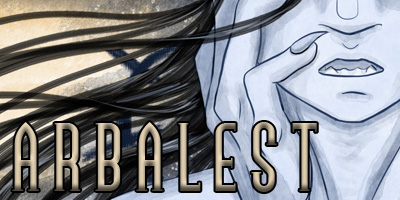 Arbalest: For six months of darkness at the top of the world, Haelu lives amongst the villagers of Arbalest. Like every Night Twin before her, Haelu is a monster, destined for sacrifice. Unlike every Night Twin before her, Haelu dreams of a way out. Together with a candlemaker from a broken home, she will learn to transcend the role that Arbalest has laid out for her.
Arbalest is a very atmospheric comic, with some very interesting art and creepy narrative undertones. It's still a relatively new comic, so it's a quick read, but it'll suck you in really quickly. Definitely recommend it!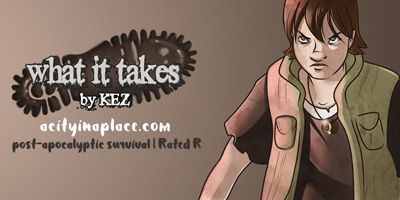 What It Takes: In 2004, the world ended. Technology failed, disease reigned, and humanity fell--all except for a City in a Place. There, in a hidden civilization of scientists, doctors, and engineers, life as we know it continued...and everyone else wants what they have. The City will stand or fall based on the choices of a wandering survivor as she uncovers a history with the City she never knew she had. Join Colbey as she searches for her lost fiance and finds more than she ever bargained for.
If you're looking for a good post-apocalypse comic to archive binge, WIT has you covered. It's rapidly approaching the endgame, with over 20 chapters under it's belt, and it's a wild ride from start to finish. I STILL HAVE MY FINGERS CROSSED FOR A REUNION... C'MON.... PLEase....